Enjoy the romance of sailing a true tall ship.


Who is Star Clippers?
A Star Clippers sailing is not a typical cruise. Passengers can enjoy the romance of sailing onboard a true tall ship in a relaxed atmosphere with high standards of service and pampering provided by an attentive crew. Royal Clipper, Star Clipper and Star Flyer feature expansive teak decks, swimming pools, informal dining, a convivial Tropical Bar on deck and a comfortable piano bar. A brand new vessel, the Flying Clipper, joined the fleet in 2020.
While their size is intimate, these majestic sailing vessels are large enough to offer first-class accommodations and dining, but small enough to call at lesser-visited ports, untouched by large cruise ships. Carrying just 170 or 227 guests, there are no long lines, no crowds and no overwhelming feeling of "there's too much to do." Whether it's lounging in the bowsprit net suspended above the ocean or dancing to a local steel drum band, guests appreciate the pace and scale of a Star Clippers voyage.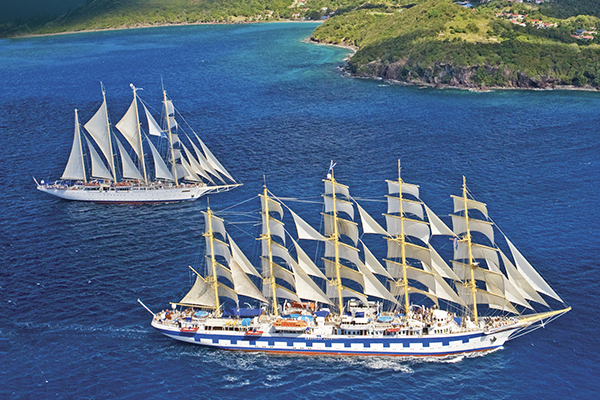 Photo: 2 Star Clipper ships in the water
The three ships in the fleet are modern, high-tech, recreations of the classic clipper sailing ships that dominated the oceans of the world in the 19th century. Today they offer guests adventurous, crewed sailing on traditional clipper ships, built to uncompromising yacht safety standards with the comfortable surroundings of a private yacht.
With a higher deck-space-per-guest ratio than most cruise lines, guests can always find a lounge chair to soak up some sun, enjoy the ocean breeze or catch up on a good book.
Star Clippers' guests dine in one unhurried sitting, so they can take their time and enjoy the meal with new friends. They are greeted by name, and their preferences remembered by our attentive staff.
THE SHIPS
When guests embark on a Star Clippers journey, they immediately notice the beautiful masts and sails in place of the typical cruise ship silhouette. Star Clippers ships are classified SPV (sail powered vessel), which means that unlike sailing ships classified MSY (motor sailing yacht) our guests will experience the thrill of moving under the power of the wind as much as possible. Our engines keep guests comfortable inside, but the wind gently moves us from port to port.
ROYAL CLIPPER:
Inspired by the legendary tall ship Preussen, Royal Clipper has the proud distinction of being the largest and only five-masted full-rigged sailing ship built since its predecessor was launched at the beginning of the last century.
With a complement of 42 sails, Royal Clipper is a splendid sight to behold. For connoisseurs of sail cruising, the 439-foot Royal Clipper offers the ultimate sea-going experience, balancing the grandeur, adventure and tradition of sailing with the superb service, amenities and accommodations of the finest modern yacht.
Royal Clipper carries 227 guests in grand style. A full 19,000 square feet of open deck and three swimming pools create a wonderfully spacious and expansive outdoor environment. A convenient marina platform lowers from the stern for ocean access for watersports activities.
The ship's interior spaces include a three-deck atrium that funnels sunlight into the elegantly appointed, three-level dining room, featuring open-seating dining, deliciously prepared cuisine and a casually elegant dress code. Experience the one-of-a-kind Captain Nemo Lounge, the site of our spa and health club with underwater glass portholes. And the Piano Bar is the ideal spot for a pre-dinner aperitif.
STAR CLIPPER/STAR FLYER
Star Clipper and Star Flyer are modern cruise ships in every way, created for luxury-loving passengers who also love the traditions and romance of the legendary era of sailing ships.
Star Clipper and Star Flyer are both 360 feet long and each carries 170 guests in pampered comfort. Sixteen sails billowing in the wind let all who come aboard know that they are about to embark on an adventure that is far from ordinary. Life aboard is blissfully relaxed, much like traveling on a private yacht. Guests never feel confined to an over-planned schedule on Star Clipper or Star Flyer.
Each ship offers spacious accommodations and expansive teak decks with ample space and not one, but two swimming pools. In fact, these ships offer more outdoor space per passenger than most conventional cruise ships.
The decor of Star Clipper and Star Flyer is reminiscent of the grand age of sail with a modern touch. Antique prints and paintings of famous sailing ships please the eye, while teak decks and gleaming mahogany rails are richly remindful of Star Clippers' proud nautical heritage. All Star Clippers ships feature open-seating dining in an elegantly appointed dining room, our convivial indoor-outdoor Tropical and Piano bars, and an Edwardian-style library where a Belle Époque fireplace glows with a warmth that reflects the friendliness and enthusiasm of Star Clippers' hospitable officers and crew.
FLYING CLIPPER
Flying Clipper was built in Split Croatia, and is modelled after the France II, a 1912 sailing ship that was the world's largest at that time. The new ship will be the biggest and most ambitious yet for the company, carrying 300 passengers and 140 crew members. The vessel will have 150 cabins, including 34 balcony cabins and four Owner's Suites. The Flying Clipper has entered service in the Mediterranean in 2020.
ACCOMODATIONS
Like a fine resort, all the amenities are found on a Star Clippers ship: king bed, or twin beds that can be converted to queen, marble bathroom, private safe, flat screen television with in-house video, DVD player with complimentary movie rentals, direct-dial telephone, hairdryer and comfortable furnishings. The decor is tastefully traditional, and guests feel like they've come home to familiar surroundings. Our cabins are the ideal retreat to unwind in private or make a quick change before heading back out on deck. Everything is immaculately maintained and our staff is far from intrusive. Your steward knows exactly when to appear or disappear.

ROYAL CLIPPER
On Royal Clipper, 14 deluxe suites offer the ultimate in cruising comfort, with private verandah, whirlpool tub and 24-hour room service. All but six of the ship's 98 cabins are outside, and for the ultimate indulgence, two 420-square-foot Owner's Suites may be combined to accommodate up to eight guests. All in all, your Star Clippers cabin or suite is a perfectly arranged abode for daydreams and nights of blissful rest and relaxation.
STAR CLIPPER/STAR FLYER
On Star Clipper and Star Flyer, eight deluxe deck cabins open to the outside deck so passengers can take in plenty of fresh sea air. All but six of the ship's 85 cabins are outside, and an aft Owner's Cabin has a luxurious master bedroom with a marble bathroom, whirlpool bathtub, mini-bar, 24-hour in-cabin service and a sitting area. All in all, your Star Clippers cabin or suite is a perfectly arranged abode for daydreams and nights of blissful rest and relaxation.
Photo: Cultural dancers in traditional garb
DINING
On Star Clippers' ships, dining as an international exploration of the palate. For breakfast, guests can help themselves to a continental breakfast with croissants, toasted English muffins or sweet Danish pastries. Or they can savor a full breakfast with fresh tropical fruits and crisp bacon, grilled sausage and omelets cooked to order in the dining room.
At lunch, a marvelous buffet of seafood, salads and grilled favorites awaits in the open-seating dining room. If the day includes a stop at one of the paradisiacal islands the line frequents, guests might also be treated to our festive outdoor barbecue on shore. In the afternoon, guests can congregate in the Tropical Bar for an impressive snack buffet to tide them over until dinner. They are, after all, on vacation.

When evening comes, our elegantly appointed dining room, becomes the setting for the chef's finest culinary presentations. Every course is designed to please the eye and the palate, with each dish complemented by equally fine wines. Our service is friendly and gracious, befitting a sophisticated restaurant. On all three ships, guests are free to dine when and with whomever they wish – including officers, who join our guests in the dining room most nights. The dress code? No need for formal gowns and black tie, casual elegance is the order of the day and every single night.
Photo: Palm tree on a pristine beach
ACTIVITIES
On Star Clippers, there are no rigid schedules and no overwhelming sense of not enough time. Guests are free to do as they wish with their days.
The Captain and crew are superb improvisers of the kind of light-hearted fun only found on Star Clippers. The Captain's daily briefing on deck is wonderfully informative and a chance to hear some great story-telling from our enthusiastic masters. And there are other events and activities, such as knot tying and navigation classes, that have evolved from Star Clippers' sailing tradition. Those who are in for an adventure can climb the mast (with a harness, of course) to our Crow's Nest for a better view of the horizon. And the open bridge makes it possible for guests to get a true sense of sailing a tall ship.
Guests enjoy gathering round the Piano Bar and join in singing a few favorites. And the indoor-outdoor Tropical Bar is the ideal place to meet new friends and catch up on the day's adventures.
To entertain our guests, we bring local performers onboard to give them an authentic taste of the local music and arts. So rather than enduring another Las Vegas revue, they can enjoy the conviviality of fellow shipmates while a live band plays tropical tunes from a real paradise.
When sailing in tropical parts of the world, guests can take advantage of the Star Clippers' complimentary water-sports program and go snorkeling, sunfish sailing, water-skiing and windsurfing. For guests wanting to explore the wonderful ports of call, Star Clippers also features an array of shore excursions, and the complimentary beach barbecue continues to be a guest favorite.
Photo: city next to the water
FAMILY
As the only modern-day tall ship fleet with the atmosphere of a private yacht, Star Clippers offers a vacation that is extraordinary for the whole family. Parents appreciate visiting the beautiful, cultural and historical ports of the Caribbean and Mediterranean, while children can let their imaginations run wild when they experience the adventure of cruising on an authentic sailing ship.
While a Star Clippers sailing is relaxing, there are plenty of opportunities to take advantage of educational opportunities, including sailing lessons and historical tours that teach the whole family about a port or region.
Onboard the ships, kids (and adults) can climb the mast in the safety of a harness, plunge in a pool with a porthole that peeks into the dining room, or take part in activities like talent shows and pirate-themed parties. On shore complimentary water sports and fun active tours keep everyone busy.
Photo: Boats in the water next to a small town
SERVICES
We're casual and friendly, welcoming and warm. Our hospitable staff is eager to ensure that each guest experiences a memorable vacation that is pampering, relaxing and fulfilling. We know our guests by name, and we're never intrusive.
The ships offer a variety of services that make a Star Clippers sailing adventure all the more extraordinary. Guests who want to explore ashore can select from a variety of optional shore excursions that were carefully crafted to showcase the highlights of each port.
Guests who love the sea can take advantage of the complimentary watersports program that includes snorkeling, sunfish sailing, water-skiing, paddle boarding, windsurfing and more. On Royal Clipper, the watersports can be enjoyed from a convenient aft marina platform. Guests can request complimentary snorkeling gear to borrow for the duration of the voyage.
Those who don't want to fully disconnect from life on land can check email from the shipboard computers for a nominal fee, while those who to want to leave their electronics behind can borrow a book or two from the ships' library. The onboard Sloop Shop carries a selection of sundries, as well as Star Clippers mementos and apparel.